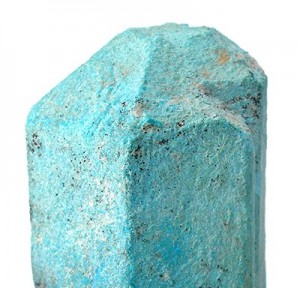 There's a common misconception that turquoise stones generally look alike, no matter where they come from. The truth is, there are thousands of varieties, each with their own distinguishing traits.
Some varieties are much harder to find today, with many Southwestern mines having been depleted and closed decades ago. Sleeping Beauty Turquoise, however, is still being mined today in Globe, Arizona.
The turquoise characteristics of these stones are reminiscent of the Persian turquoise found in the tombs of ancient Egyptian kings. Sleeping Beauty stones are known for having a deep royal blue to sky blue color and often feature little to no veining or matrix.
Consider the smooth blue of a robin's egg to get a good idea of the purity of the turquoise characteristics of Sleeping Beauty stones. The mine is one of the only operations left in the Southwest producing enough gemstone quality stones to meet commercial demand.
According to the mine's owners, stones are shipped all over the world based on certain turquoise characteristics. For instance, bark blue stones are more popular in Egypt while Italians typically favor light, sky blue stones.
The mine ships to jewelers and artists all over the world in rough form, or stabilized. Stabilized stones have different characteristics because they are impregnated with acrylic to preserve color and improve durability. Stabilization is an important step in the production process; not a lot of turquoise comes out of the ground hard enough for use in jewelry and art.
Turquoise that is jewelry-grade in its rough form is considered to be some of the most valuable on the market.
The turquoise characteristics of the Sleeping Beauty variety are unique and highly respected in the market. It can be found in some of the most stunning examples of Southwest and Native American jewelry, as well as in art and jewelry from around.